---
---
Camiguin
Camiguin is situated in front of the northern coastline of Mindanao. The impressive profil of the island you can see already from afar, massive green volcanos characterise the scenery.
About Camiguin already one reported to me, before I had come first times to the Philippines. It has its special lovers and quite a lot of foreigner made the island to their home.
Perhaps it was because of my high expectations, when I vistit the place finally, I was a little disappointed.
Unfortunately you will find here only brown and grey colored beaches, its the result of the volcanic past (comparable with the northside of Bali).
Small rescue anchors for the lovers of white beaches, are on the one hand a large sand bank (white island - see left picture) and the island Mantigue, situated in the east, where one will find also a good marine life for snorkeling.

Inside the island you can discover some very nice waterfalls with swimmingpools, as well as hot and cold springs, likewise with beautiful swimmingpools.
For exploring the island its recommendable to rent a motorbike, plenty of hikingtours are also possible. If you bring sportive fitness you can try to climb the Mount hibok hibok (with a guide).
Getting to:

Since April 2011 Mid-sea Express flies 5times the week from Cebu and twice from Tagbilaran/Bohol to Camiguin.
Daily flights to Cagayan de Oro from/to Manila and Cebu.
Ferryboats from Cebu to Cagayan de Oro.
From Cagayan de Oro by Bus to Balingoan (around 1 1/2 hours). From there all 1 - 2 hours small ferryboats go to Benoni.
From Butuan by Bus in 2 hours to Balingoan, from Surigao around 5 hours.

From Jagna/Bohol several times the week ferryboats go to Camiguin (2 hours). Ocean Jet (good boats) started a new daily trip from Jagna to Camiguin and Balingoan.


Favorable accommodations:

Jasmin by the Sea, Bug-ong,
direct at the sea, starts at 800 Peso, frequently fully booked.

GV Pension House, Mambajao,
like all hotels from "GV", they offer a good price/performance ratio, some of the rooms are very small, take a look before. Fan starts at 300, Aircon + TV starts at 500 Peso.
Restaurants:

Jasmin by the Sea Restaurant, phil. and german dishes, food and prices ok.

Italian Pizzeria, on the street to Agoho/Yumbing.
I am not sure whether the place is still alive, 2006 I been there several times to eat the spicy
"volcano pizza", it was one of the best pizza I ever eat in the Philippines!

Favorable Eaterias you will find in Mambujao.
How I told already, its a good idea to rent a motorbike for discovering the island. Many Resorts make you a favorable offer!
If you not like driving yourself, in Mambujao you will find also a driver for any route and time (but for this service you would have to pay some additional money).

The Katibawasan Fall one will find some km east of Mambajao (pics leftside). 70 m the fall goes into depth, downside is a big nice swimmingpool, large truck-tires can be rent. Sundays and on holidays you have to share the place with plenty of locals (like everywhere in the Philippines!)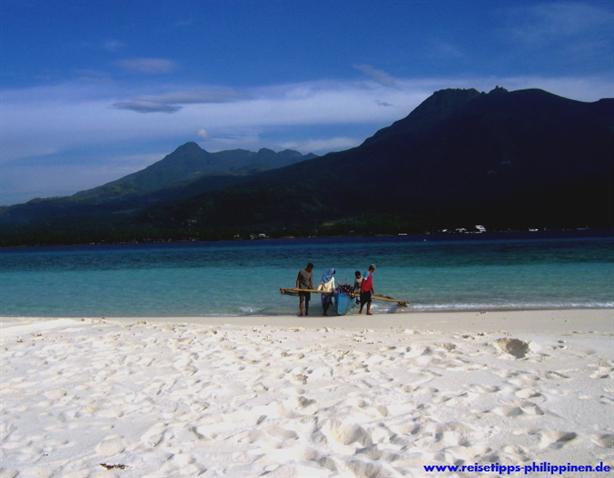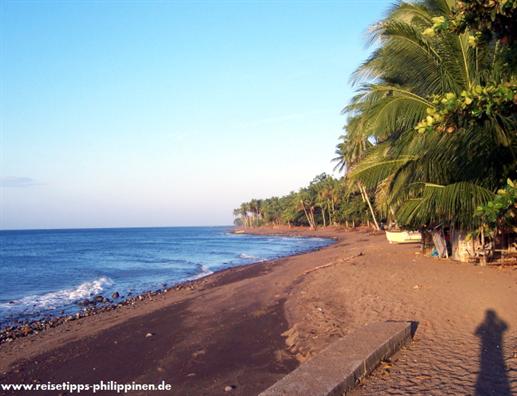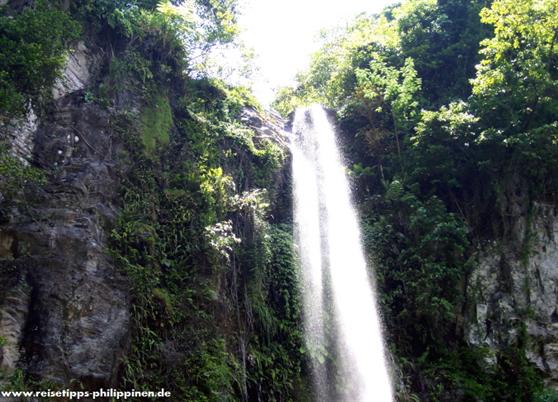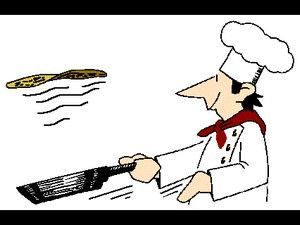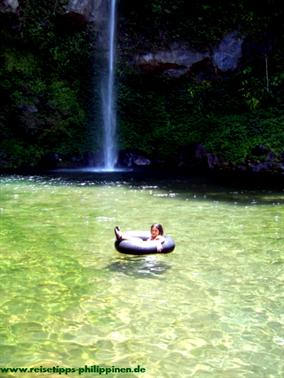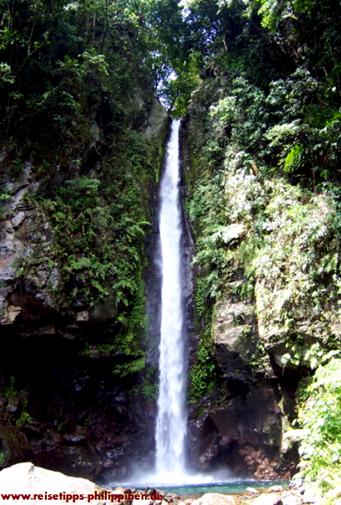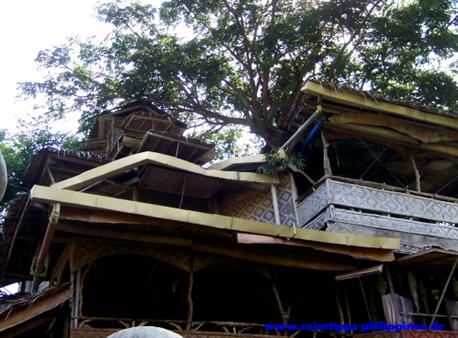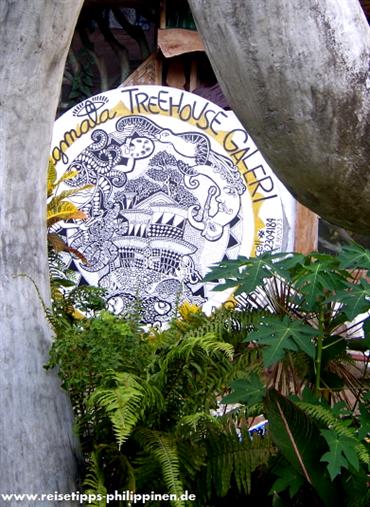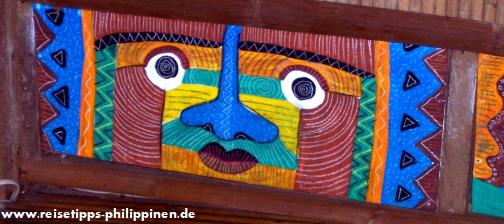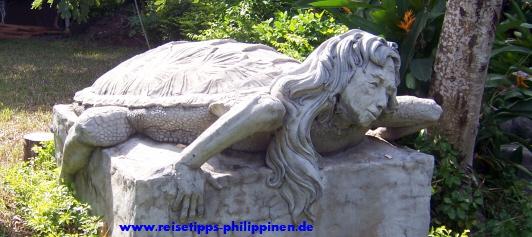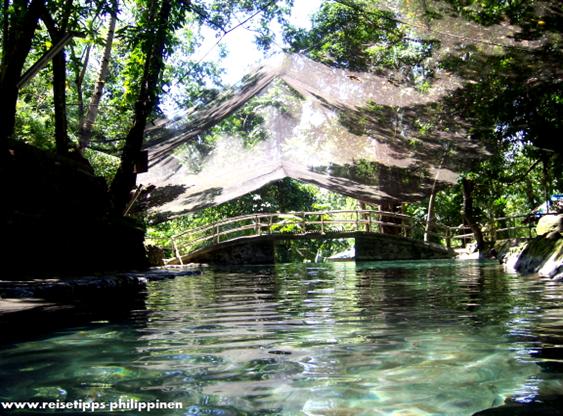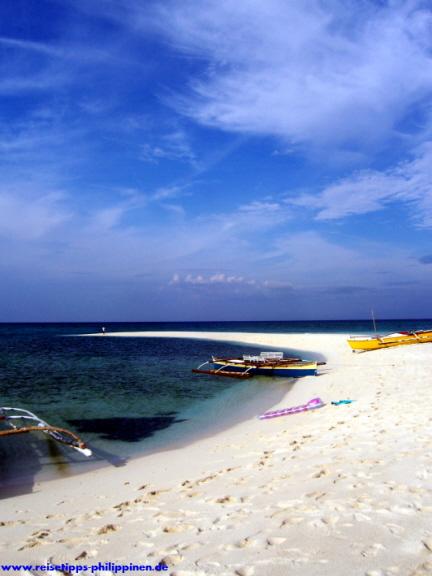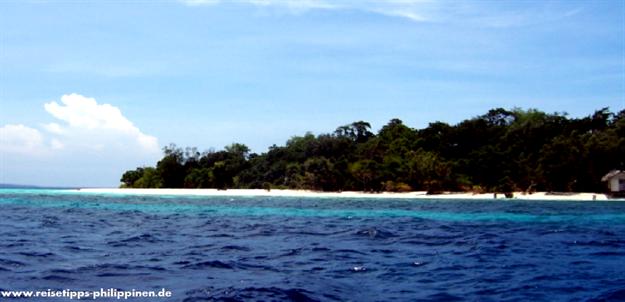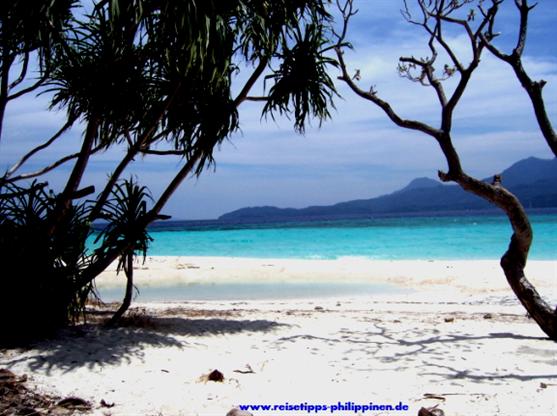 Patsada Cottage, Agoho,
2 nice Cottages for people who like cooking themself, situated a little upside the mountains with a beautiful garden and swimmingpool, free WiFi, good place for long term stayers, bargain for weekly or monthly rates (specially in the off-season).

Enigmata Treehouse, Eco-Lodge and art galery, Balbagon,
bed in the dormitory for 200 Peso, backpacker-room for 500 Peso, Suite for 950 Peso. Further downside I tell you more about the project.

Enigmata treehouse, Eco-lodge and art-project (link),
Balbagon.
When I visit the place in August 2006, there was no business going on!
But now their website makes a good impression.
I think the house had a renovation. The best will be, you take a look, if you in Camiguin, whether there will be actual projects (art, music, eco, social) or test the accommodations there. They offer very cheap places in the dormitory or very nice ones in their suites.
Outside from the big citys (Manila, Cebu) in the Philippines, you will not find many art projects, so that is itself a good reason to support the place!
The Tuwasan Fall (pic rightside) one can reach from the southern road in Camiguin. From the ringroad take the turnoff by Compol to Mainit.
From there you have to take the way to the mountains. Ask frequently the locals for the way or bring a guide!
The last km is going only crosscountry by foot!




A very fine daytrip and relaxing-destination are the Ardent Hot Springs (pic leftside).
Hot sources spend water for different pools, which getting cooler downside.

On Friday and Saturday they have sometimes program in the evening (concerts, ... ).

From Mambajao, direction to Agoho, then you will see a sign, its going a little upside in the mountains.



On the southside of Camiguin one can visit the Santo Nino Cold Springs, also with pools (turnoff between Looc and Catarman).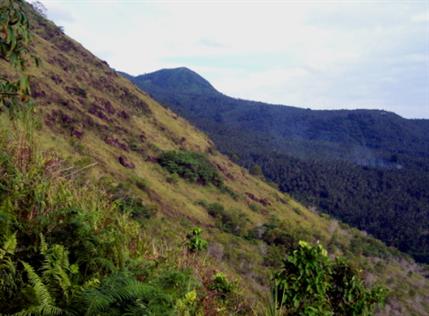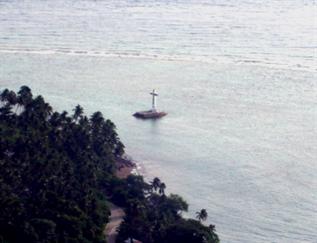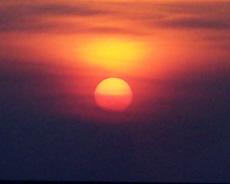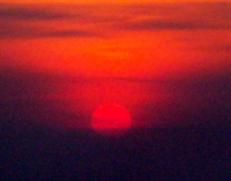 At the western coast by
Bonbon
you will find the old sunken cemetery, noticeable by the large white cross.
At Easter holidays plenty of people visiting the stations of the cross, upside in the mountains you can see the volcanic earth and stones.
The volcanos on Camiguin already robbed the life from many inhabitants. The last bad incident in the early 50ths was a pyroclastic flow (its a fast-moving current of extremely hot gas). The cloud pulled down and at least 500 humans, some reports spoken even of 2000, lost their lifes. In consequence of this disaster many people left the island, it needed long time (until the 90ths) that Camiguin getting back the number of the former population.
If you like climb the
hibok hibok
(1332 m), you have to register at the DENR- office in Mambajao (500 Peso) and nowadays you have to take also a guide (1000 Peso - ?). On the way from the northside you will pass the seismological observatory (
Phivolcs - link
). There you can get also information about the actual situation (but no dangerous activity since 1953) and they have also a collection of reports of the former volcanic eruptions.
Going to White Island is possible from Yumbing or Agoho for around 400 Peso. Entrance fee: 20 Peso.
The sand bank changes its appearance depending upon season (wind, current, waves). According to recently visitors, bamboo roofs are no longer permitted, so perhaps its better to go their in the late afternoon, because its becoming very hot without any sun protection.
… and bring along a camera - plenty of good motives!
From the underwater world unfortunately you could think you visit"Hiroshima 1945"!
A ray of hope for snorkeling is however
Mantigue Island
(pic left and above). It is situated 3 - 4 km east of the village of
Mahinog
. In the southeastern part of the island there was a small fishing village. According to recently visitors, the inhabitants should be resettled to the main island and Mantique will be completely under nature protection.
I can remember that I have found in the western part of the island quite good marine life. For boats they should charge you now uniformly 550 Peso, entrance fee is again 20 Peso.
The "
silent garden - website
" offers you a lot of further information about Camiguin:
(link)
The journey to Camiguin you can combine with a
rafting experience
in Cagayan de Oro and/or with a visit of
Bohol
or
Surigao
del Norte.